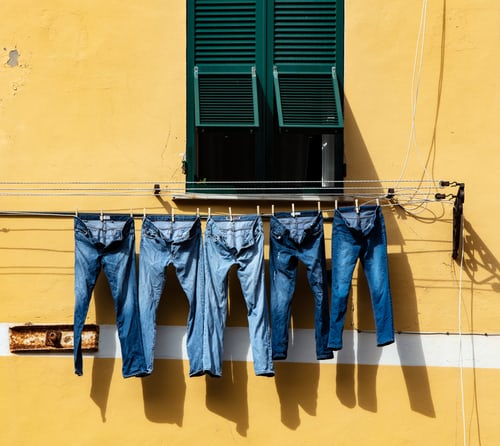 We never miss "denim" if we think of casual fashion. "Although the workwear brands such as "Levis" or "Lee" are classic brands, Japanese denims are also attracting in recent.
So, we are going to introduce 5 Japanese denim brands beginning since 2000. High quality Japanese denim brands are plentiful. Among them, we can see brands have simple design and delicate fashion. No matter which one is refined brand. So it's good opportunity to hold to the one finding your favorite denim
Why are Japanese denims good?
Japan is neither the origin of denim nor possessing long history of Japanese denims. However, why Japanese denims are good is because of the highly appraisal quality of made-in-Japan denims.
The most famous producing area of Japanese denim is so-called "Sanbi (Ibara and Kurashiki in Okayama Prefecture; Fukuyama in Hiroshima Prefecture)". The area Sanbi is originally planting abundant cotton, renowned for "Blue dyeing" and well-developed Textile industry. As the mentioned background, Sanbi area has succeeded to this highly developed technology since period of Edo.
Many craftsmen modified the technologies of dyeing, spinning and sewing and then gave birth to high quality denim. The high quality denims proceeded by this way are approved all over the world. Today the procedure is still being used by several high quality brands.
The recommended 5 denim brands
WESTOVERALLS
The first one we going to introduce is WESTOVERALLS. Since 2017 it started, several big collection shops are selling its goods. Today people can say it's still the focus brand.
Every denim has unique characters. So we list them as follows.
・Designed by Ooneki Tassei, who is also selling old clothes, it mixes moderate vintage feeling and refined image resembled to designer brand.
・The denim materials are 13.5OZ which are neither too hard nor soft, make flexible wearing come true.
・Skipped reinforcing band(the exchangeable part on waist) on the waist and buttons for pockets brings the light image like trousers and chino clothes.
・Image or pattern is changed near thigh(usually modified around knees for denims). →It will have the effect like that legs look longer or bendy-legs become hard to be noticed.
・Rubber with brand logo is seamed at waist interlining(attached material inside waist position). It relaxes wearing feeling and also prevents from color stain when tucking in.
We recommend the classic straight mode, 801S, and loose tapered mode, 806T, if you are choosing first time.
orSlow

Source:BOROPBY
It expressed uniquely the classic garments such as workwear and military wear as "slow" and based on the concept designs clothes since it started its brand in 2005. Beside denims, it has Jackets, outers and sweater.
It manufactures with old sewing machines that are rarely used today so its items are full of vintage feeling that other brands don't have. Sometimes you will feel memorable when white strings come out and show original feeling of color.
Like vintage style, the fading color is enjoyful. The washing-processed rigid denims or one-washing-processed one are recommended if you pursue the enjoyment of color fading.
Classic factors are mixed thoroughly and the beautiful image is still suitable nowadays. Denims combined the style of the past and present are popular with both normal people and people who don't, making its denims great.
The classic straight type, 105, and slim straight type, 107
RESOLUTE
The one who has been active for long in Japanese denim industry, Yoshiyukui Hahashi, founded the brand in 2010. Whole manufacturing procedure operated by denim professionals in Sanbi area is "the made in Japan brand".
The most characteristic is the erecting fur after washing and the pleasure of color fading for long term. For long time, many people are captivated by the feeling of "cultivating" denims, the denims teasing male's heart.
Although the rigid material about 13.75OZ is used, image and hue are beautiful so that it doesn't contain uncouth temperance. Dressing with tailored jackets or dress shirts is also recommended.
Plus, a lot of size is available, so finding fitting size without tailoring hem might be another advantage of the brand. The classic model, 710, surprisingly has 7 different size of length available.
Mr. Hahashi thought "Producing classic model that can be bought anytime", so the denim from "RESOLUTE" has 4 types only. Among them, the most basic one is the slim straight, 710, and wide image straight, 711.
RED CARD
In "Edwin" for 10 years, in "Leivs" for 6 years, Honzawa Yuji had been well-prepared and founded "RED CARD. The professionals of denim produce items incredible. Especially the process of mustache and Atari is fine, which is the style Japanese professionals can achieve.
As a designer, Mr. Honzawa pursues more than functionality of workwear, aiming so-called "fashionable", so he doesn't insists 100% cottons.
Depending on styles, it uses materials with light once and blend fabric with polyurethane for stretching denim. Every different style of material is combined and accomplishes surprising comfortable wearing feeling.
What's more, in order to fit beautiful form of Japanese, Japanese brands also have many female fans for their eye0catching styles.
Especially popular models are two, one is slim straight type, "rhythm", and another is slim stylish type close to skinny, "rider".
KURO

Source:KURO
The brand was founded in 2010. The color of Japanese eyes and hair, black, as brand name, melting Japanese perception into design, and the art of refined professionals are the characteristics. The quality and delicacy of fabric to manufacturing of the Japanese brand are attractive.
Here we have 5 designs, and slim straight type, "graphite", is the basic model. Slimmer types, "Diamante" and "Fibro", are blend fabric of polyurethane so wearing feeling is comfortable.
If you're choosing first time, the above mentioned 3 types are recommended.
Epilogue
5 newer denim brands are described. Which one do you prefer? You could try to compare to other garments and find preferable one.
Any one is new classic high focus and choice item, for sure. Why not to have the most high class one and re-recognize the "Denim" seriously?