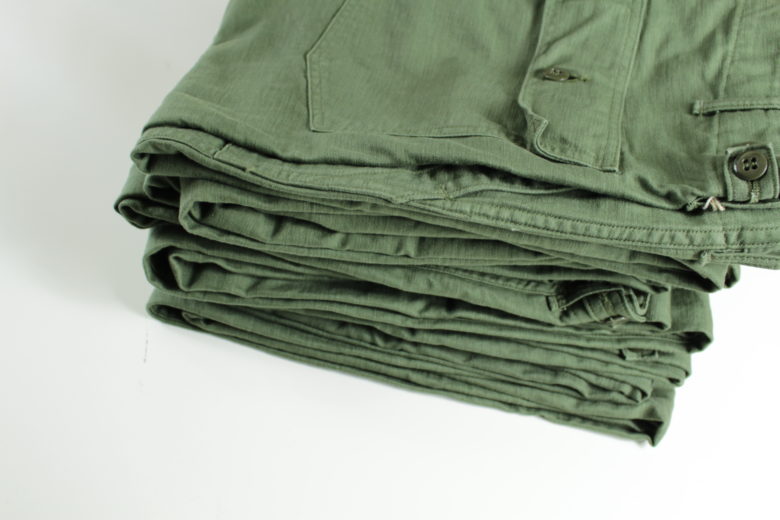 Today I am going to introduce you to the fatigue pants from the company called "orSlow". They are either slacks or denims. Pants that you could wear comfortably at any occasion.
Fatigue pants is one of the popular american casual items and sold by lots of companies but the orSlow is the most famous company for the item. So we are going to break down their fatigue pants specifically.
orSlow has the "US ARMY" and also the "US SLIM FIT", two types of fatigue pants. I'll explain the difference between the two. For the material they also have two kinds which are "Back Satin" and "Rip Stop", but in this article we are going to focus on the back satin fatigue pants only.
Even if you don't know what fatigue pants are, you could read this article to get to know them!
What even are fatigue pants?
Fatigue pants used to be called the "Baker pants". Back in the day, usually the bakers or the soldiers were wearing them while working.
Obviously the name "Baker Pants" came from the "Bakery". People might not know this but bakery's work is a lot tougher than you could imagine. The silhouette of the baker pants are pretty thick so the bakers could move their feet freely while they are working.
Design wise, they have a big squared front pocket, flapped pocket on the back, and khaki colour are few of the main characteristics of these pants. Though they look similar to the cargo pants so they often get mistaken. But usually the cargo pants have multiple big side pockets on them, and the fatigue pants don't. Therefore the silhouette of the fatigue pants look slimmer than the cargo pants.
Fatigue pants that were made in the 1960~70s could be sold for a pretty high price point.
The orSlow Fatigue pants characteristics.
Now we are gonna talk about what's so good and why their fatigue pants are better than the others.
Choose between the "US ARMY" or the "US SLIM FIT".
Like i explained before, orSlow has two different kinds, "US ARMY" or "US SLIM FIT". These options allow you to change up the styles depending on how you are feeling that day or how you want to style your outfit of the day. There are not many brands that carries multiple types of fatigue pants other than the orSlow.
US ARMY kept the original "fatigue pants silhouette" from the 40's. On the other hand, the US SLIM FIT has a slimmer silhouette and makes your legs look skinnier.
Both of them have nicely tailored silhouettes, but having two kinds of could solve your problems on pants like,
They are too thick
They are too slim
Wish they were little more thicker
Wish they were little skinnier
And allows you to pick whichever you like depends on the outfit you are going to wear.
It is nice to have options.
Their completely original "back satin material"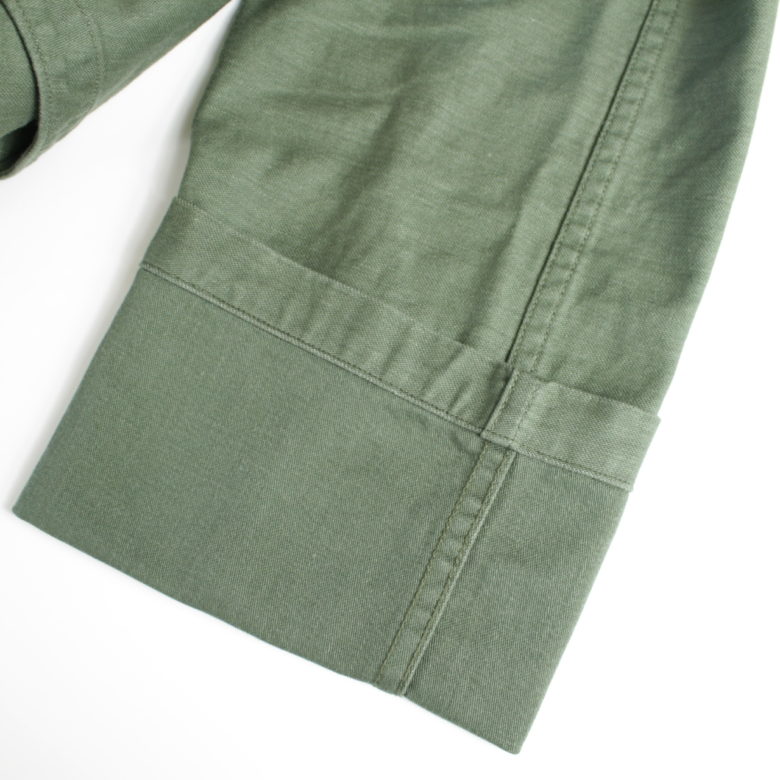 orSlow's fatigue pants are made of brand original back satin material that contains 100% cotton. A lot of people know the material "satin", but "back satin" might be new to your ears.
Back satin's characteristic is just like the name itself, they have luster on the back side of the pants unlike the normal satin. If you look at the photo above, the front part of the material looks uneven but when it gets flipped around, the back part is shiny.
Why would they need to make the back side shiny you ask? Because the satin's shiny parts are smooth on the skin and insanely comfortable to wear! Work clothes are often too focused on their durability and are uncomfortable to wear.
But the back satin allows them to make the workpants way less uncomfortable. You might even want to wear them outside of work, because they are so comfortable.
Also the back satin often changes its colour depending on how long you wear them and it is oddly fun to experience.
made in Japan
All the products from orSlow are made in Japan.
Products that are made in china are surprisingly good quality but "made in china" doesn't have a status. If you could say that their products are all "made in japan", it's a huge status.
Attention to detail
orSlow's attention to details is one of the reasons why they are popular.
Chain stitch sewing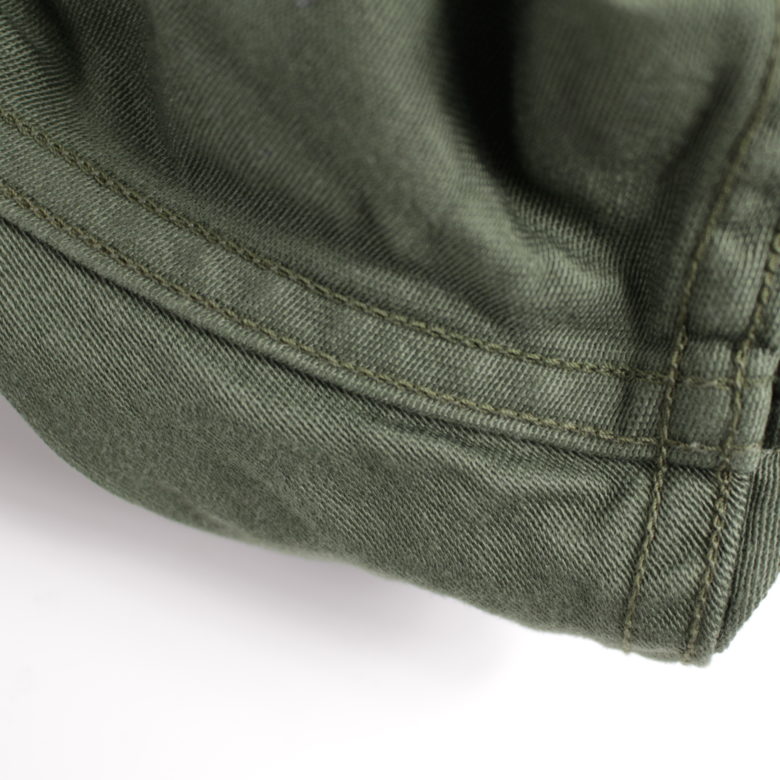 If you flip the material, you could see that they are using the chain stitch sewing from its inseam to sleeve. Chain stitch is the sewing method that is usually used when tailoring jeans. orSlow's popular jeans, 105 and 107 used the same method on their sleeves.
With this method, the stitches look like chains that's linked up till the end and that uneven stitching causes undulation and could cause three-dimensional yet enjoyable changes of colour on the pants.
Bartacking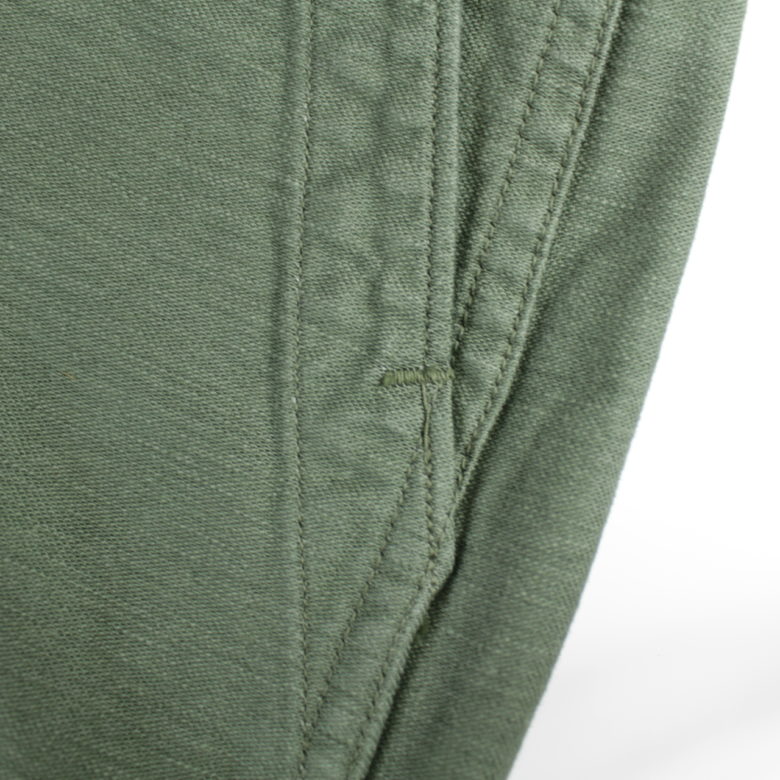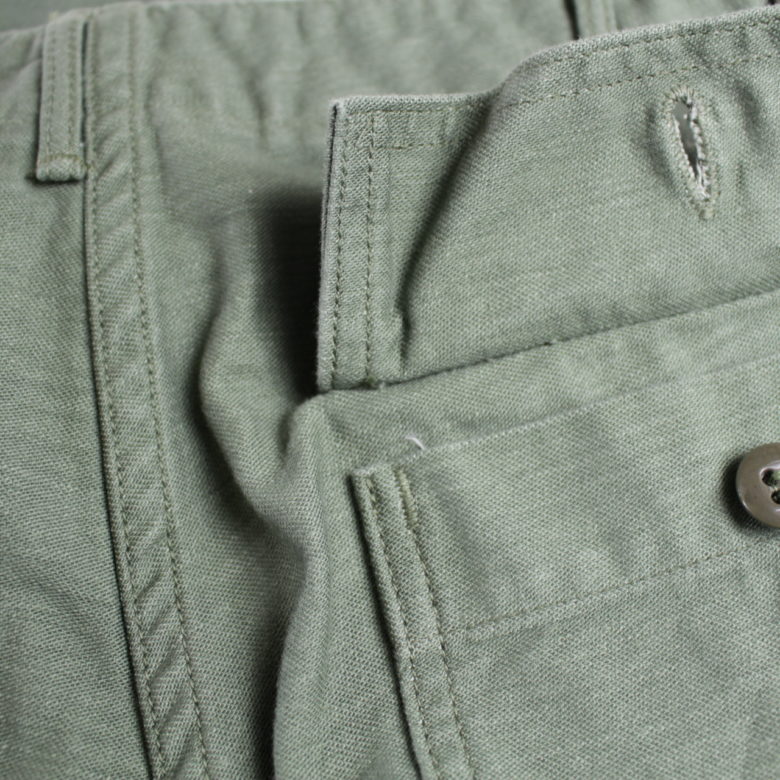 Bartacking has been subjected on both ends of the front and back pocket. Bartacking is a way of stitching that allows materials not to break.
Which gives us more time to enjoy their pants for a long time.
Difference between the US ARMY and US SLIM FIT
So, what's the main difference between the US ARMY and US SLIM FIT? These two pants share the same material and stitching but the front part and their silhouette are completely different.
Button fly and zipped fly
US ARMY and US SLIM FIT have different methods on the front part.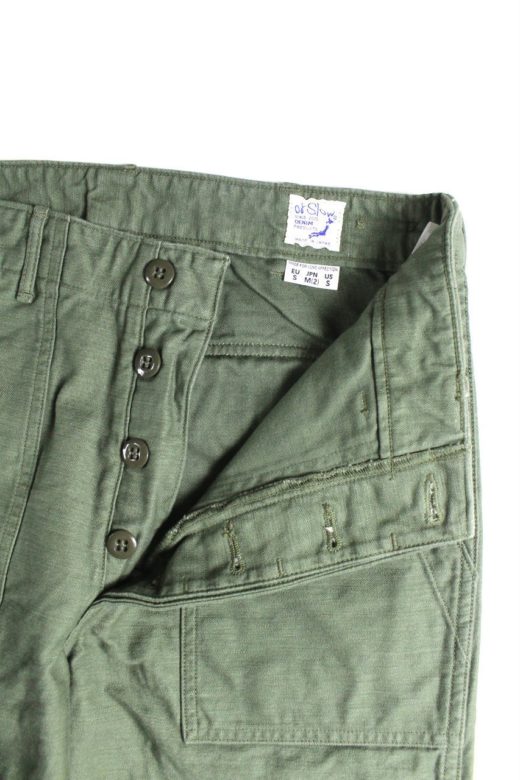 This is the US ARMY FATIGUE with button fly method. Compared to the Slim fit, not only the silhouette but the entire pants looks more like a work pant.
The main characteristic of the button fly is that they are very durable. Also if a person wears these pants for a long period of time, an atari appears on the button so you could wear them like jeans.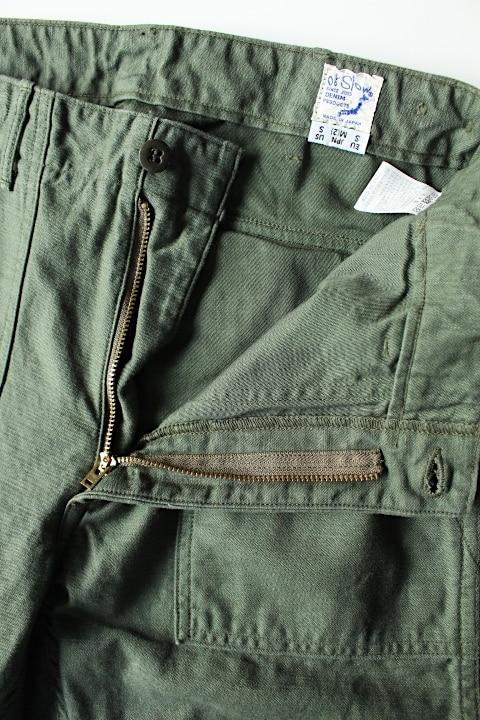 On the other hand, the US SLIM FIT FATIGUE has a zipper type fly. The zipper flies are super popular these days because of how easy it is to open and close.
When using the bathroom, this zipper type makes everything way easier than the button type. But they aren't as durable as the button type.
Thicker silhouette and the balanced silhouette that aren't too skinny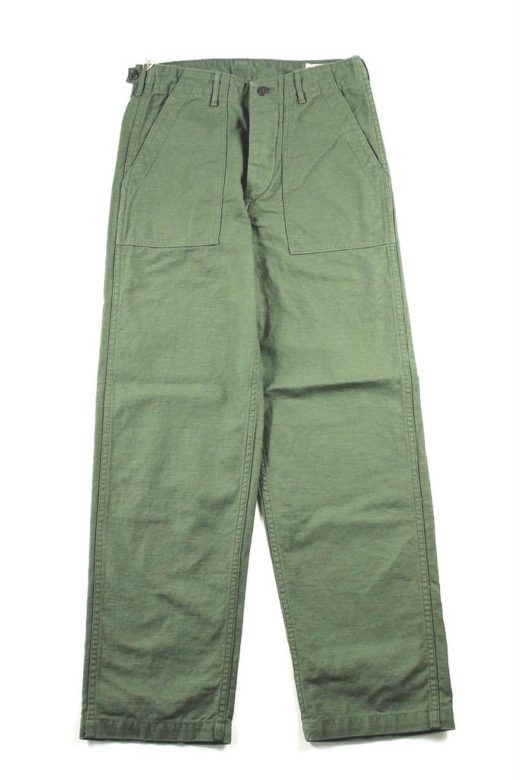 US ARMY FATIGUE has a straight silhouette. It's somewhat thick but tapered so they look perfectly slim and not dull at all. Their not too thick but not too slim silhouette is exquisite and it's almost like they kept the exact look since the 40's yet they fit right into the modern fashion.
Also when you roll them up, they don't lose the clean look either.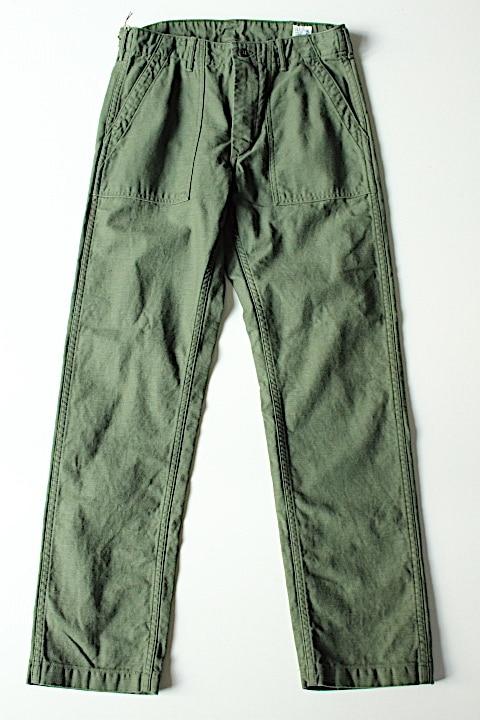 And this is the US SLIM FIT FATIGUE. Let me apologize for the picture we have, the material might look different in this picture but they are the same.
Anyway if you compare the silhouette to the US ARMY FATIGUE, they are much different than the other.
Just like the name, the slim fit is slimmer than the army but not too skinny like a pair of skinny jeans. They are just little thicker than that and kept the comfortable look and perfect for a mature yet slimmed outfit.
For people that want to purchase military pants but don't want anything too thick, the US SLIM FIT FATIGUE is for you.
Size preferences
You might be wondering how they actually fit on you. So few of our staff tried each size of the jeans on.
US ARMY FATIGUE PANTS
US ARMY FATIGUE PANTS SIZE 1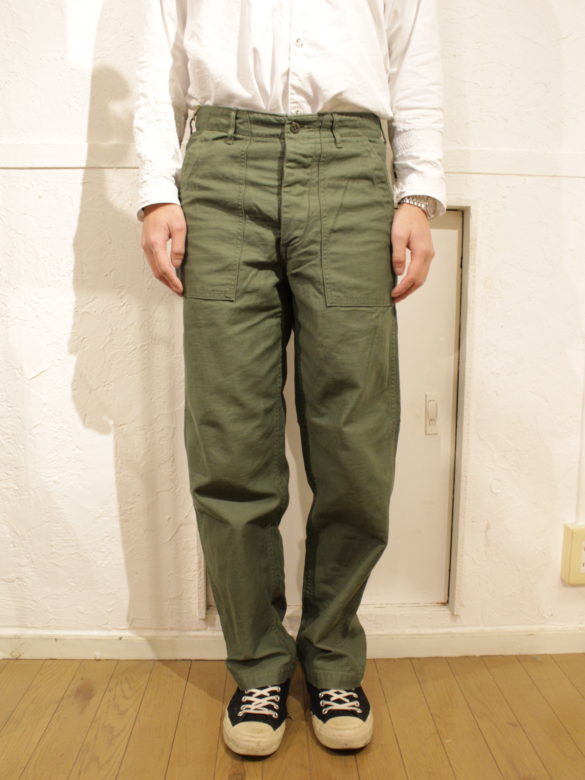 Looks like it does have a beautiful silhouette. US ARMYs are straight jeans but they are also tapered and don't look bulky at all. When you look at it from the side, the hip line looks slimmed up also. Their hem doesn't touch the ground when a pair of sneakers are on your feet and just perfect. He said the waist was a little tight but wasn't a big problem to him.
Mens Model:178cm / 67kg
US ARMY FATIGUE PANTS SIZE 2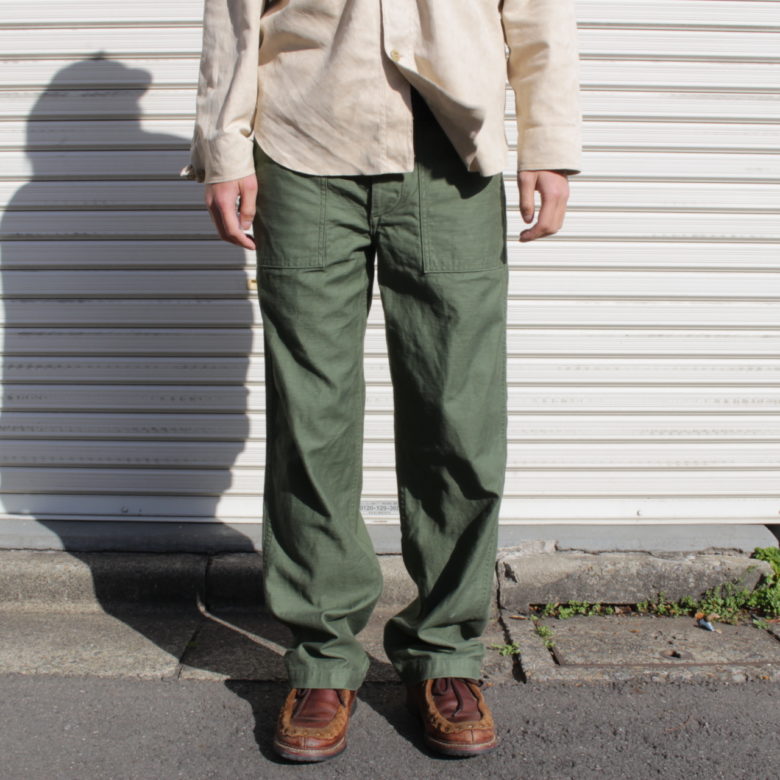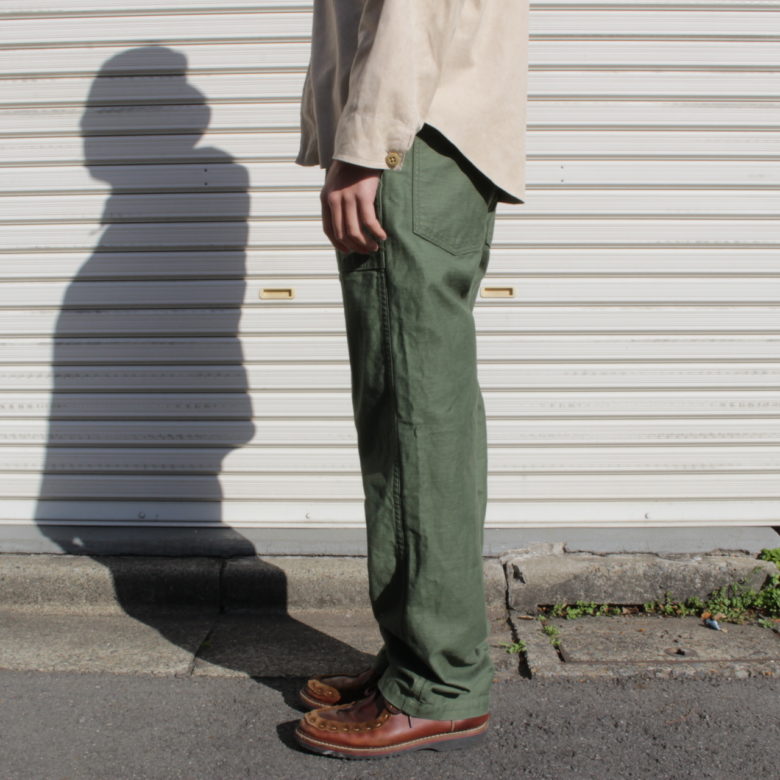 Compared to the Size 1, around the thigh doesn't look much different but from the calf to the hem part looks a little more comfortable. These also have their hem done just the right size. This length could be left like this or could be rolled up and won't look weird at all and even enjoyable.
Mens Model:178cm / 67kg
US ARMY FATIGUE SIZE 3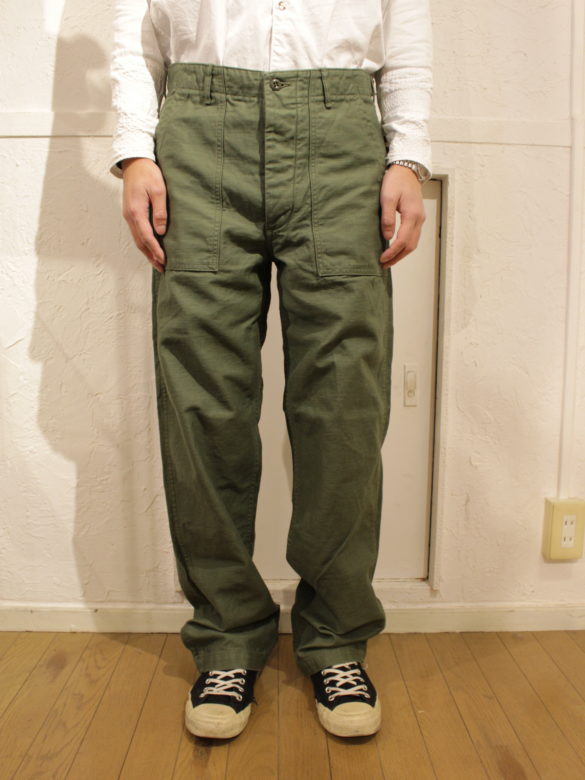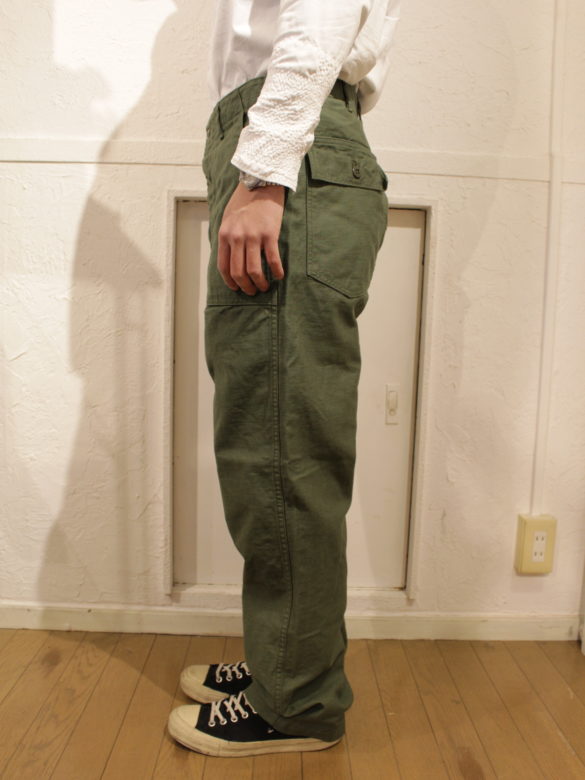 The first impression when I put them on, the waist was a little loose but it wasn't a huge deal when I put a belt on. Overall Size 3 has a little bulkier silhouette compared to smaller sizes. From the side, the hip line looks comfortable as well. The hem will touch the ground so they are recommended to be rolled up.
Mens Model:178cm / 67kg
US ARMY FATIGUE PANTS SIZE 4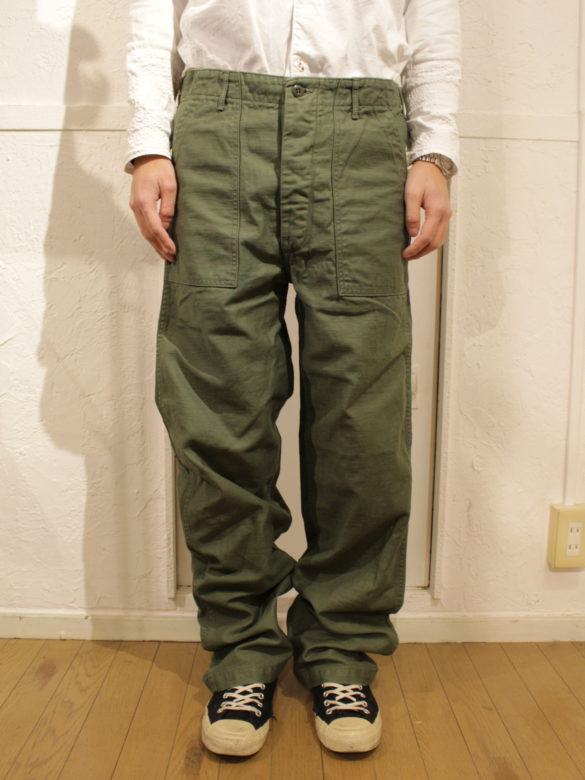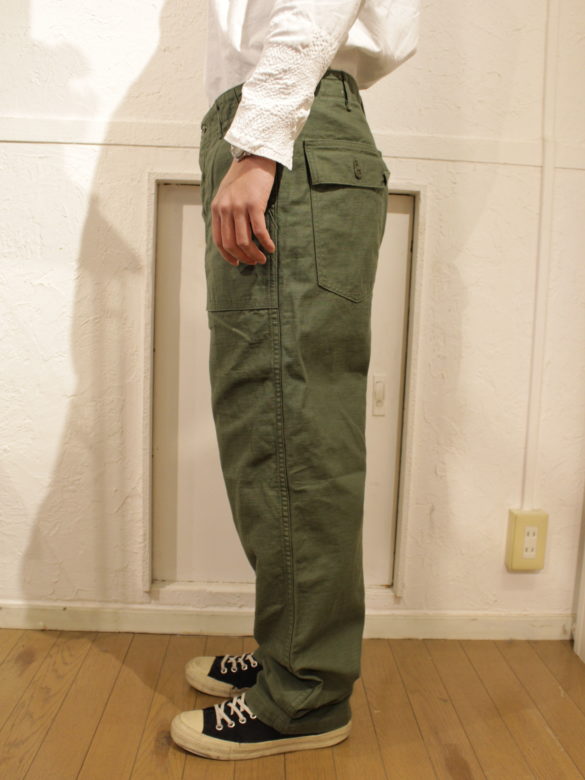 Just by looking at it, the entire pants look bulky and the waistline is pretty big, and the hem is a little too long. The size 4 is little too big for an average build men and the roll up doesn't really help either.
Mens Model:178cm / 67kg
US SLIM FIT FATIGUE PANTS
US SLIM FIT FATIGUE PANTS SIZE 1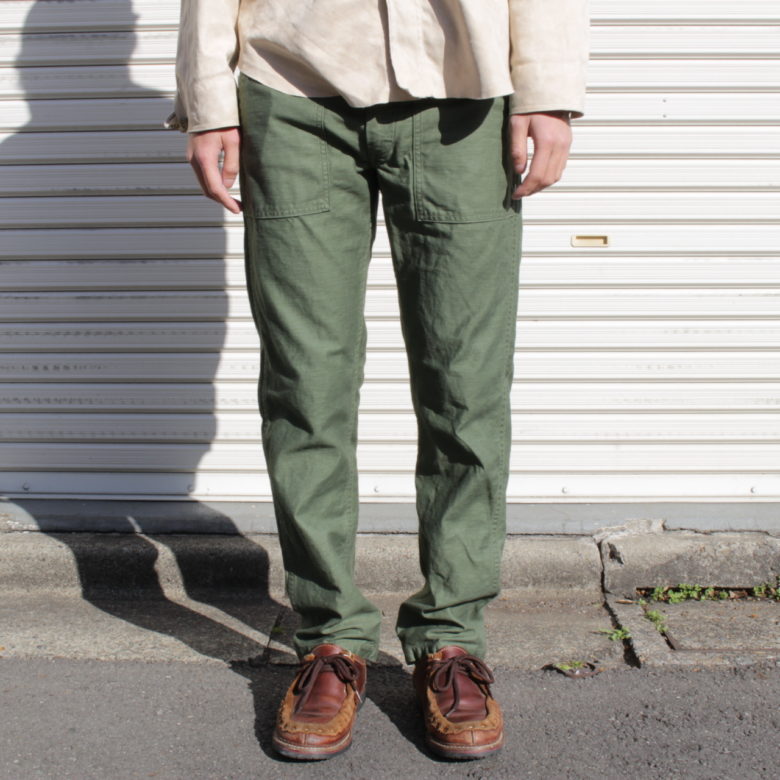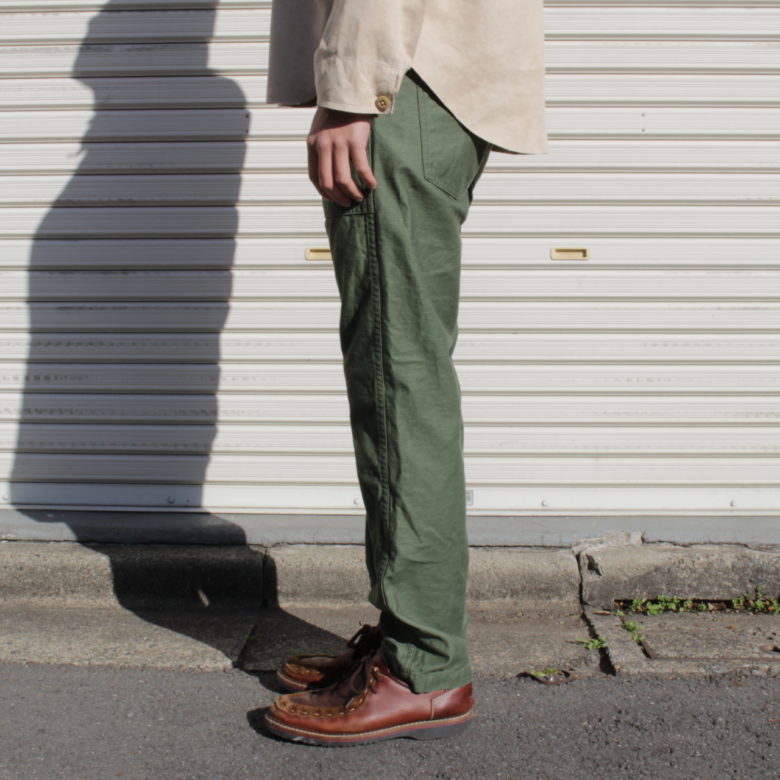 Compared to the US ARMY, this pants is quite skinny and looks clean. The length is perfect and doesn't need to be rolled up. These pants will make your legs slim and improve your overall silhouette.
Mens Model:178cm / 67kg
US SLIM FIT FATIGUE PANTS SIZE 2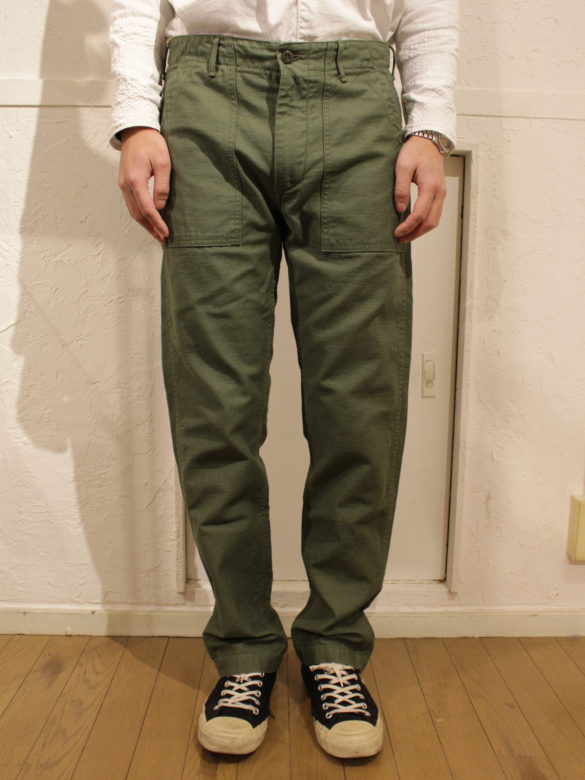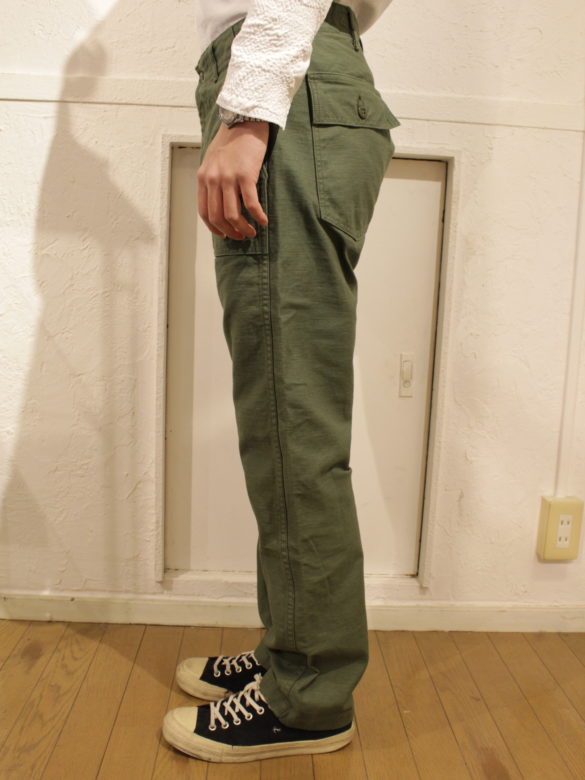 Not too skinny nor too thick, the perfect silhouette. The hem doesn't need to be rolled up. Compared to the US ARMY, the hip line is going to look a little higher.
Mens Model:178cm / 67kg
US SLIM FIT FATIGUE PANTS SIZE 3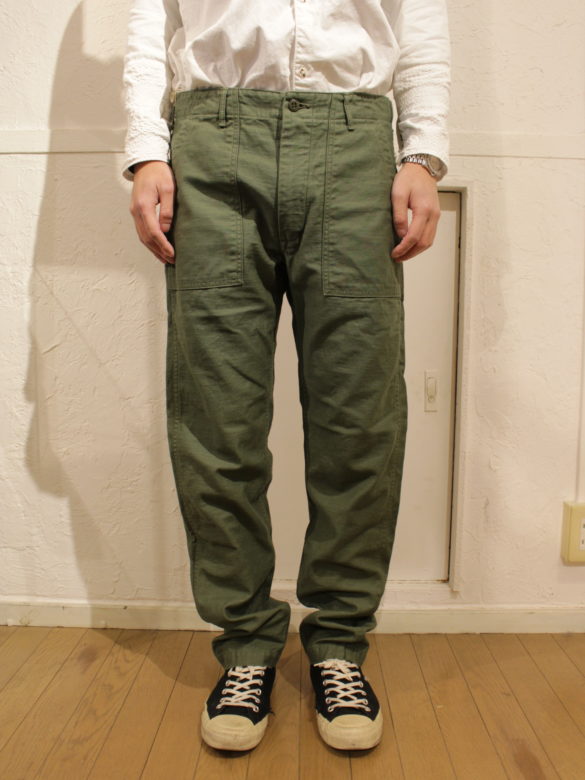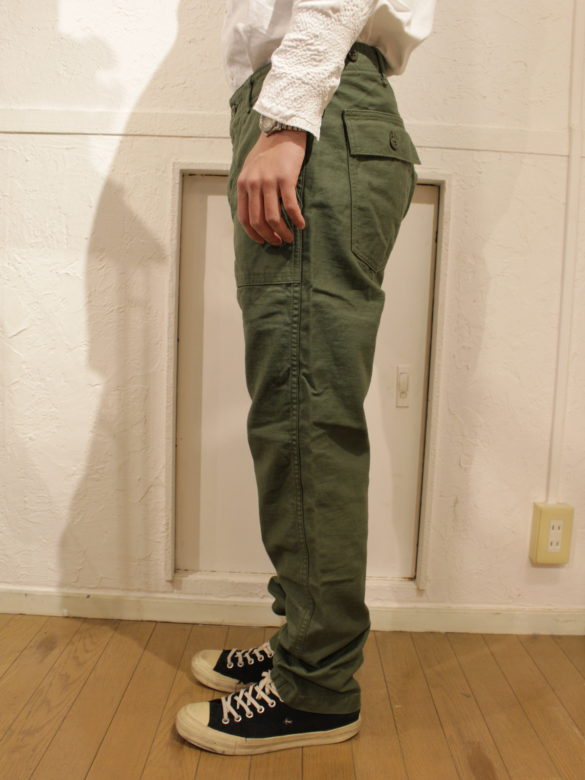 This one is a little more comfortable than the other two. I would recommend this size for people who want Their pants to be slim yet comfortable at the same time. Waistline is pretty similar to the US ARMY pants. And the hem is just above the ground.
Mens Model:178cm / 67kg
US SLIM FIT FATIGUE SIZE 4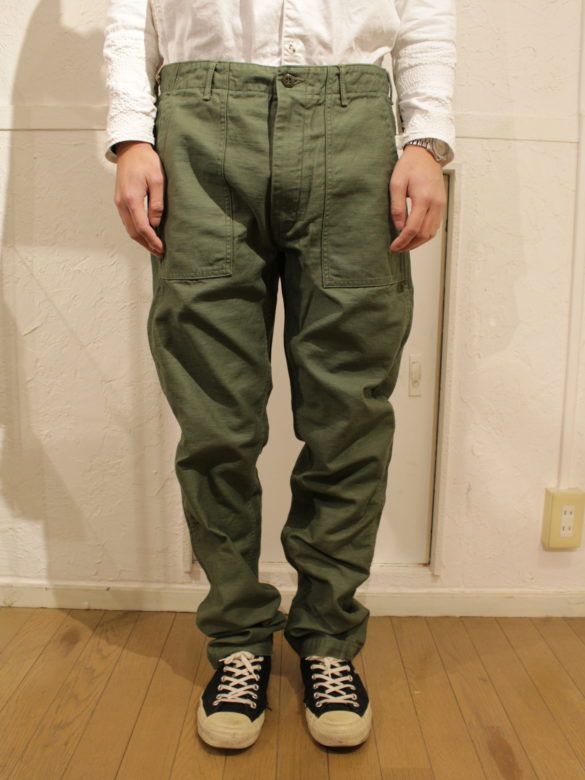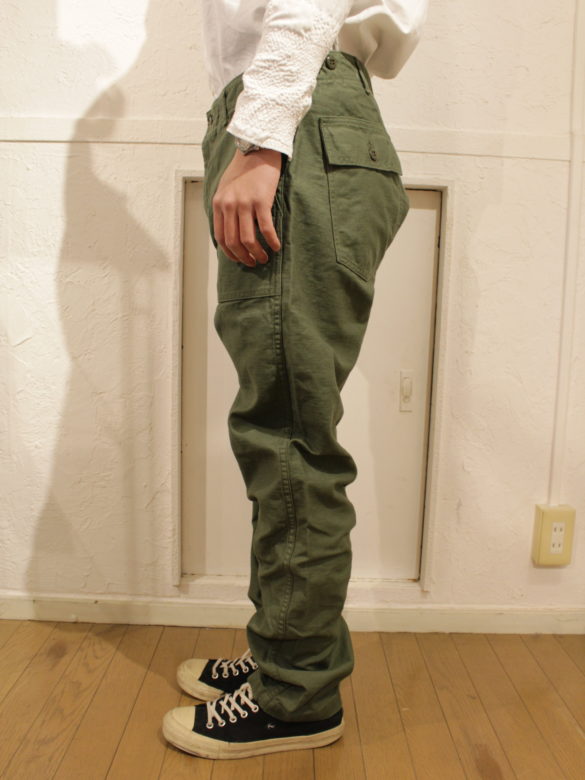 After all they also have their length longer than their leg and it feels like they are almost too long at size 4. But on the bright side, they look much fitter than the US ARMY pants and look less bulky than their size 4.
Mens Model:178cm / 67kg
Examples of outfit with US ARMY Pants
Denim shirt & Sneaker for a casual outfit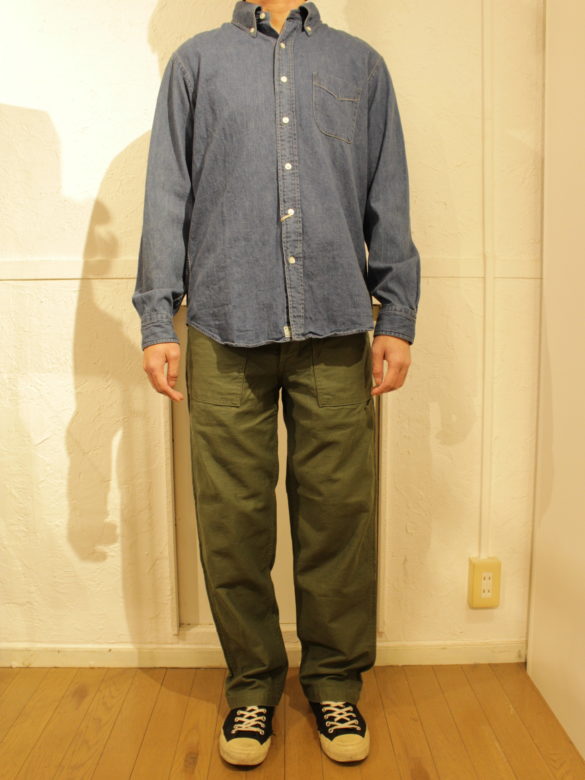 orSlow button down shirts denim used is worn in this outfit. Denim and fatigue pants go really well together.
Fatigue pants have a straight down silhouette and when that is matched with buttoned up denim shirts, it creates the "l line shape" and causes your style to be better. What you can also do is to wear a shirt inside and leave the buttons off to look more casual and also the shirt could be taken off easily.
Mens Model:178cm / 67kg Size:3
T-shirt & a pair of sporty sandals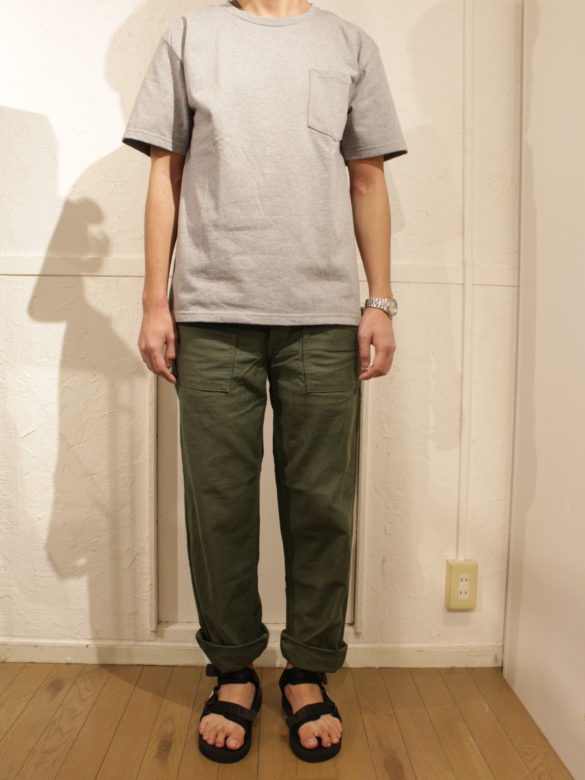 A grey orSlow pocket T-shirt Uniesx compliment the fatigue pants to be the main part of the outfit.
On the feet, we have a pair of Black SUICOKE DEPA-V2 to give an accent to the grey and khaki colour outfit. Fatigue pants are very stretchy and easy to move around with so when It's matched with a pair of sporty sandals, it makes it even easier to move and looks more tropical.
Examples of outfit with US SLIM FIT
These outfits are worn by an average build person with the height of 178cm. Sizes are both size 2.
Sweatshirt & checked shirt to create layers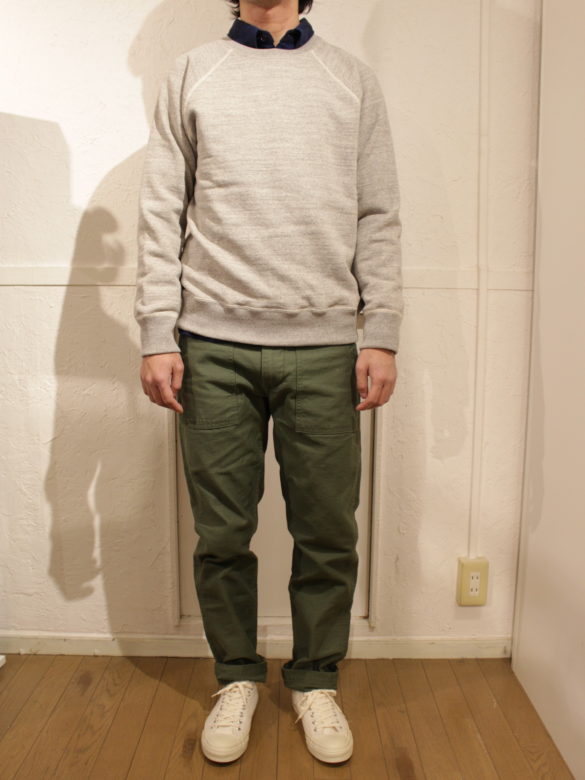 Fatigue pants are not too thin yet not too thick so these could be worn all around the year. A grey orslow Crew Neck SweatShirt and a blue FDMTL CORDURA MESH SHOULDER SHIRT are worn on this outfit.
If you think the sweatshirt by itself is too casual, layers will help make the outfit more classy.
A White shirt & a pair of leather shoes for the clean look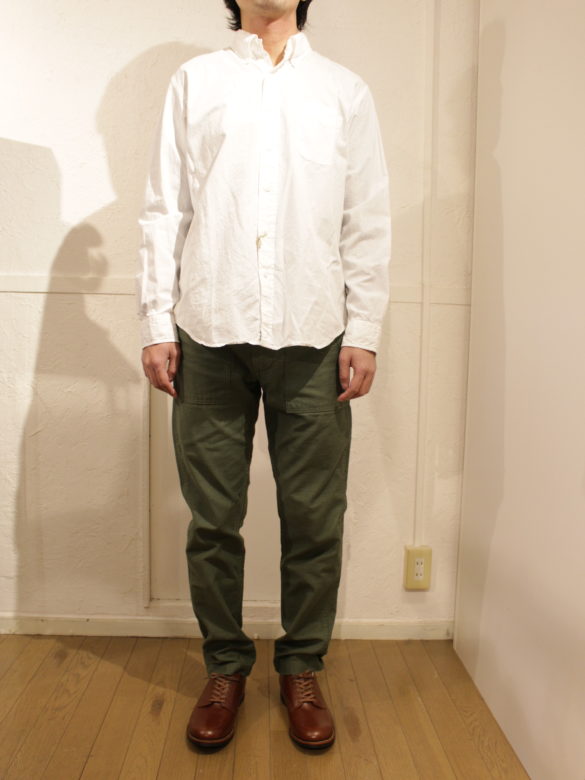 orSlow's skinnier fatigue pants could make an excellent clean outfit. This outfit is super clean and the outfit consists of orSlow Button Down Shirts White and Buzz Rickson's SERVICE SHOES.
The shape is fatigue pants but rather US SLIM FIT makes a better slim and clean style.
Prices
16,000JPY+TAX
orSlow US SLIM FIT FATIGUE PANTS
16,000JPY+TAX
Conclusion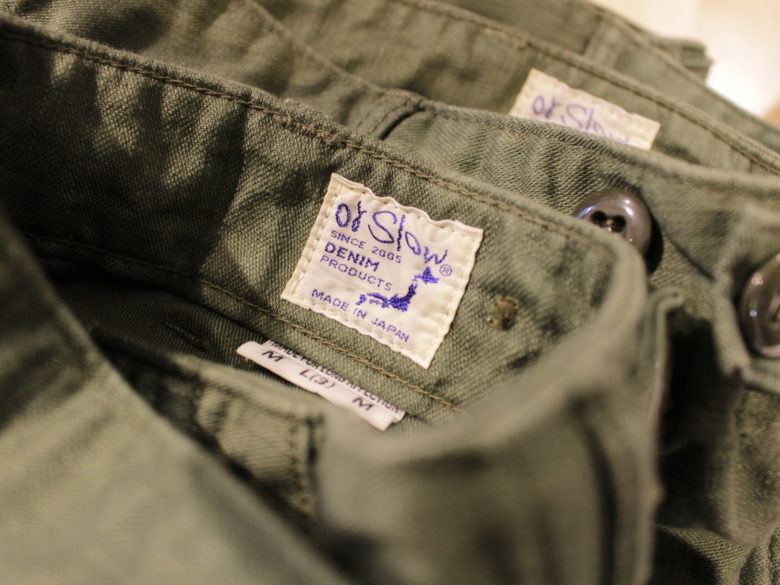 What do you think? orSlow's fatigue pants are mostly focused on precise designs and silhouette, and also the feelings of size.
US ARMY and SLIM FIT both have their characteristics and so many outfits could be possibly made with both of these pants. If you haven't tried on any fatigue pants at all before, we recommend you to try theirs first!