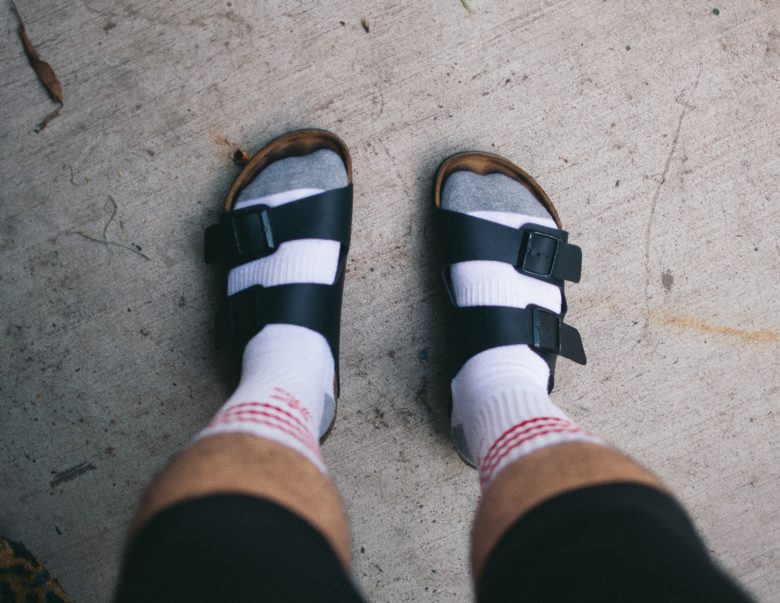 Most of you probably think that sandals are something that you wear on bare feet. Sure enough sandals are mostly worn during summer and looks better without socks anyway.
But if you are a delicate person, the smell of feet might concern you and if that's true, wearing sandals on your bare feet is something you'd want to avoid for sure. Also for the people who have sensitive skin. If shoe sore or callosity are becoming huge problems for you, wearing sandals on bare feet must be very hard to try.
Therefore, if you are one of those people with delicate skin, I'd like to recommend you the "Socks & Sandals" look. Recently, there are so many kinds of socks on the market as well as the socks that won't look weird when you match them with sandals so when planning out the outfit for the upcoming day, they give you more exciting options.
In this article, we are going to introduce you to a few ways of wearing socks and sandals together to those of you who hate wearing sandals on your bare feet.
The white socks & sandals look that's not "uncool"
Pants style, the "mature & casual" outfit

Society nowadays thinks that white socks and sandals don't go well together. It is a simple combination so therefore tops or bottoms must be coordinated correctly.
If with a long pair of white socks, pants style like the inserted picture is recommended. Sandals should be black to match, of course. If you are looking to combine the long white socks with shorts, wear a sports brand socks with their logos on them like Nike or Adidas to look sporty.
The simple "monotone" outfit

If you aren't much of a fan of using colourful clothing items in your outfit, i would like to recommend you to simplify the outfit with only white and black to make it monotone. The monotone outfit makes you look cool and sophisticated, and also when they match with socks and sandals look, they look just fine.
If it's a hot summer day you could just wear a simple white T-shirt for the top piece.
Colour coordinate with colorful socks and a pair of sandals.
Outfit that matches the sock colour to the bottom piece

When matching the colourful socks with a pair of sandals, the look may change drastically depending on if you match the sock colour with the bottom piece or the top piece. Just like the inserted picture, when you match the socks with the bottom piece your lower body looks slimmer.
The sandal appears to be a platform sandal and the black leather velcro looks super stylish.
Outfit that matches the sock colour to the top piece
If you choose to wear a short pant, like the inserted picture matching the colour of socks with top piece would balance out the look of your outfit. This little twist would make the outfit to the next step.
Fun little outfit with vivid colouring

This one is more of a high level outfit and recommended to mostly someone who's super stylish. Matching a pair of vivid coloured socks with a pair of sandals would give your feet some impact. The hat is matched with the colour of socks and it looks super cool.
Lots of variation with patterned socks and sandals
Match the design of sandals with your socks

Nowadays there are so many different kinds of sandals from sporty kind to a matured looking kind. And that also is the same situation with socks. These patterned socks and sandals would bring up the number of your repertoire.
In this picture, just by the looks of it you won't notice the parting of the socks and the sandals. They are white and black and the bottom piece is also black, which results in a calm and matured outfit.
"One point change technique" with monotone outfit + a patterned item

Just like the picture here, choosing a pair of patterned socks to match a monotone outfit will make your outfit look playful and more interesting. Also when attempt to pull off this outfit, using a white themed patterned socks instead of bright colour themed socks will bring your outfit together.
Match your sandals with everyone's favourite "marbling patterned socks"

One of the socks that's popular to match with sandals nowadays is a marbling patterned socks. These socks will fit in very nicely when they are matched with sandals that are black or earth colour, so give it a try!
Conclusion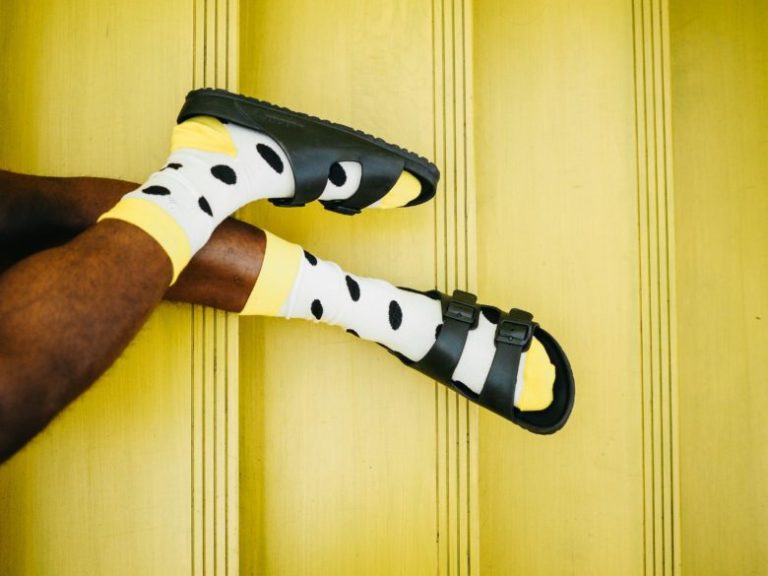 In this article, I got a chance to introduce you guys to a few kinds of socks that could match with sandals. This way, you won't have to worry about shoe sore or bad smells when you are organizing your outfit involving a pair of sandals.
If you are not a fan of wearing sandals with bare feet, starting this year i recommend you to give "the socks and sandal" look a try! It would be a fun change!